Steel for Art and Interiors
Steel is emerging fast as a choice for furniture and artworks. It has become a frequent choice among artists, designers and buyers. The limits of technology thus are being pushed to give body to artistic expressions. Fitted interiors too like sinks, curtain rods, art pieces are increasingly becoming tasteful choices among urban lifestyle as well as those who have a creative bend of mind.
There are several artists and designers who have adopted steel as the medium to showcase their artworks. Renowned artist Mattar Bin Lahej who has been using steel to create calligraphic sculptures had been working on a series that will be displayed at the Sharjah Islamic Museum. Similarly, Helidon Xhixha uses a 316 marine grade stainless steel, widely known for its resistance to corrosion for his art pieces.

Generally interior designers favour using stainless steel because it looks great with a variety of styles. If a sleek, modern look is called for, then the smooth, reflective look of stainless steel or other treated metals can be ideal. It looks great in monochrome schemes or with splashes of colour, and can help tie the decor in with essential appliances and other features like taps, door handles and so on. For a more industrial feel, which is becoming ever more popular, steel is also an excellent choice. You might have more flexibility if the finish of the metal can be a bit more rustic and doesn't have to be completely perfect to fit your overall look.
Steel gives you an advantage for its high tensile strength and hence, it is the perfect alloy to be used for making structural frames, both in interiors and exteriors. Such frames have capacities to hold a lot of weight. Steel tile usage is in vogue these days in kitchens and also is being used in living  rooms.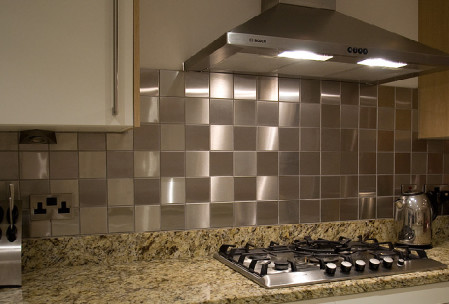 Several designers have designed armchairs and sofas which has a touch of wood to it. This is because the alloy allows for easy molding into classy furnitures like sofas, chairs and tables. Designers are hence resorting to technology for making creativity come alive.
Steel that hasn't been protected can rust and discolour easily, making it unsuitable for most places in the home, especially bathrooms and kitchens. Fortunately it can be treated chemically with a range of different methods, and this process also allows other changes to be made such as incorporating different colours. Stainless steel is a particular variety that's made by combining steel with chrome and other materials depending on the desired look and strength of the metal. The end result is a robust metal with a shiny, protective surface that looks great and stands up to tough treatment anywhere you choose to use it.
The advantage of using steel as a piece of furniture is that the alloy is strong and durable, and allows you to mold it as per your needs and use it for a long time. Hence, steel is used as a material for storage racks in warehouses as well as stores and airports. These are slowly being incorporated into residential projects as these storage racks are being made to be interior friendly.